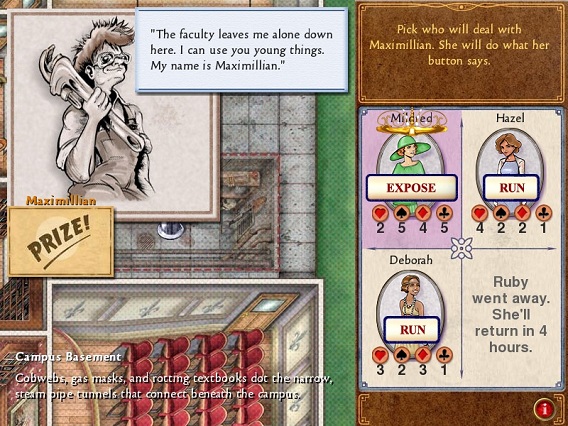 Yes, I know, from the title alone Dangerous High School Girls in Trouble! sounds like something in the hentai genre, but it's actually an award-winning puzzle game. While the subject matter is decidedly more mature than first impressions might convey, there is absolutely no naughty things in the game. The overriding theme is one of female empowerment, in which high school girls in 1920s America rebel against the corrupted values of their small community.
The Low-down
The look and feel is that of a boardgame. The town of Brigiton is represented by a series of boards, complete with the linen finish you often see in many boardgames. Elements that the player can interact with, usually an NPC, is represented on the board as a silver token, much like the player tokens in Monopoly. The minigames all use the standard suits from a deck of normal playing cards. Even dialogue is based on the convention of drawing and playing cards.
The player controls a gang of girls who are the terror of their high school. You first pick one girl who will be your queen. You then use her to recruit three other girls to form your gang. Each girl has a different value for each of the four statistics, namely Popularity, Rebellion, Glamor and Savvy. This is represented in the game by the four suits of cards. Each statistic is particularly useful for a type of minigame. Your gang then sets out to investigate a spate of mysterious accidents in the school though as you might expect, this soon leads to evidence of a much larger conspiracy.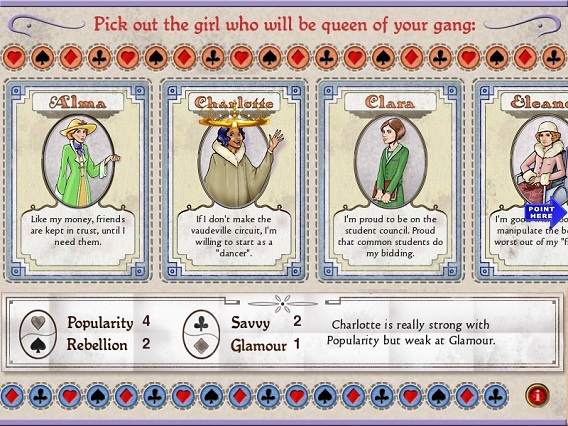 The minigames represent different types of social interaction to get other people to do what your girls want. Fibbing is a Poker-like game. Exposing the truth is a word-guessing game. Taunting is trying to get the better of an opponent by exchanging insults and retorts. Gambit, also known as the adult game, is heavily implied to be seduction or actual sex, and is represented here as a more complicated version of rock-paper-scissors. When you're faced with an encounter, you need to pick one girl from your gang to deal with the situation. Success allows you progress through the storyline. Failure is punished by having the girl temporarily or even permanently leaving the game. If your last gang member is your queen and she is forced to leave, you lose and need to start all over.
Another type of minigame is flirting, which is simply pattern matching. Flirting gets you boyfriends (only one per girl!) who act as meatshields. If you need to lose a girl but she has a boyfriend, her boyfriend is sacrificed instead. The boyfriend can also lend the girl in his strongest stat in an encounter. Very handy things, boyfriends!
The game is also RPG-like in that as you win mini-games, you get to boost your girls' stats. Some encounters, such as simply attending classes at school, allow you to temporarily boost a stat as well. Over the course of the game, you get items which give you more options in certain encounters or are absolutely needed to progress past a certain point. So yeah, this is a sort of puzzle, RPG, adventure game hybrid.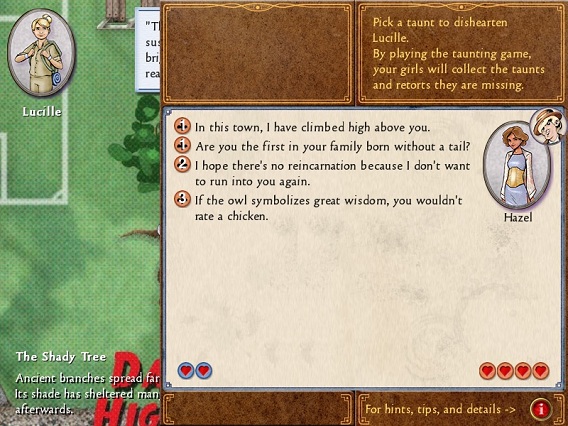 The Good
This game won an award for innovation and it's easy to see why. It's pretty much impossible to think of another game with a setting or a plot like this. I also like how the game presents many different types of conflict instead of violence and the way conflicts are resolved through abstracted mini-games.
While not exactly classic literature, the writing is consistently entertaining and sometimes quite clever. The plot starts out innocuous, but things take a dark turn fairly quickly. While the whole thing has a lighthearted air, the subject matter actually is quite mature and at times serious. The quaint and humorous language hides most of the ugliness but themes like bullying, abuse of authority and intolerance are really no laughing matter.
I'm a sucker for good 2D art and I really dig the dated look and feel of the portraits here. It would have been better if the board representing the different sections of Brigiton had been at least partially animated, but I guess that's too much to hope for.
Contrary to my initial expectations, the game actually has a decent length and getting a good ending is quite challenging. It's not just a question of exhaustively iterating through all the options, though there is some of that. For example, taunting authority figures, regardless of how well you play the minigame, rarely has a good outcome. Similarly, it is sometimes better to avoid trouble and run away from some situations instead of trying to explore everywhere.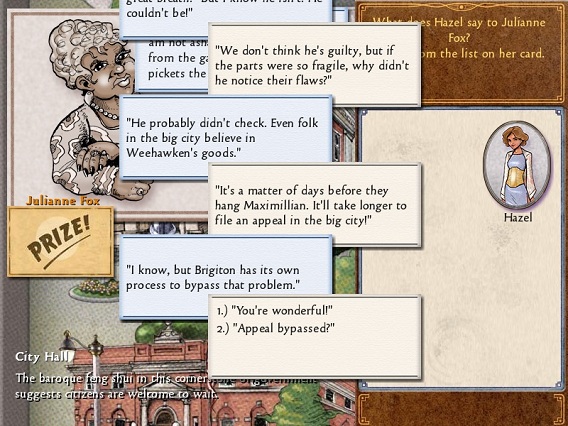 The Bad
Playing the handful of minigames over and over again gets tiresome very quickly. None of the games, apart from gambit, has any depth and even gambit is repetitive once you understand how it really works. Flirting is pure pattern recognition so it's just a matter of doing it over and over again to explore all the permutations.
Basing the whole game on a boardgame paradigm looks cool at first but becomes tiresome later when you need to use the mouse to scroll across the board to look for elements that can be interacted with. The user interface as a whole could be improved. There's a distinct lack of tool-tips for example, and it is impossible to quit out of some activities, like flirting for example, when you know you've failed and don't want to play out the game to completion.
The silliness of some of the things that go on in Brigiton gets in the way of the plot. Kidnapping and attempted rape is a serious matter, but what is the player supposed to feel about what happens when the police sergeant is literally a talking desk? In the same vein, the story so far recap screen leaves out way too many details. It's hard to tell when an event is a joke and when it's real.
My verdict: worth playing if only for the original setting. It's a timely reminder to game designers and players that there many types of conflict that games could cover beyond the familiar one of violent confrontation. But implementation and sheer fun factor is still lacking. As the game itself suggests, it's best to treat this as a casual experience to be strung out over a number of short sessions. Playing it obsessively wears out its charm too quickly.