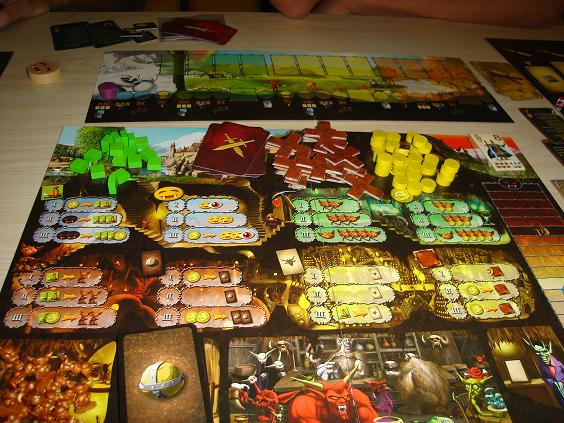 I don't have a lot to say about either of these games and we played both of them during a recent session at CarcaSean, so I'm combining them into one post to save effort. Dungeon Lords is one of the hot new games that just came out recently and Han apparently made a special effort to get it early. Han first mentioned this game back when he taught us to play Through the Ages and described it as the boardgame version of the old PC game Dungeon Keeper.
This made the game sound very intriguing, especially after reading Hiew's glowing review of it. After playing through it once however, I'm feeling lukewarm towards it. I'm not going to go into detail about the rules as there are many sub-systems in the game and I'm still not completely sure how some parts work. There's no doubt that there's a lot of room for strategizing in the game but I just don't feel that everything comes together in a coherent way.
I'm particularly irked that the process of bidding against each other to perform actions is quite complex and taxing on the brain, but there doesn't seem to be a lot of scope to customize your dungeon which in any case never seems to grow very large. It's like doing a lot of work for very little payoff. Maybe it's just me, but I've always derived a lot of pride from building up my farm in Agricola and even constructing my spaceship in Galaxy Trucker tile by tile (another game I need to play again to write about it) felt satisfying. I'm not sure what would need to change to make me like it more, perhaps make the game longer and add more stuff for your dungeon?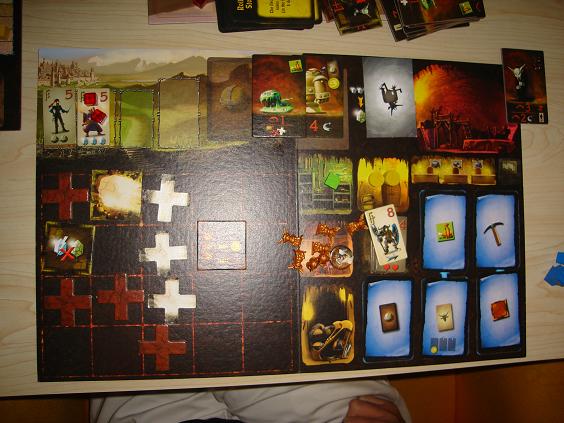 I suppose that this is partly caused by the baggage I'm bring in from the PC version. I look over my dungeon and keep expecting to see lairs, hatcheries, treasuries etc. While there appears to be some variety in the room tiles, they turn up in a random order and all of them come in just one standard size. It just doesn't look as varied and impressive as I'd expected. The traps also come in a random order over the course of the game and aren't differentiated by factors like cost or specific placement restrictions, adding to the generic feel of the dungeons you build.
Another thing is that the phase where you need to decide how to deal with the adventurers feels like an extended solitaire session of puzzle solving to me. At least in Galaxy Trucker, there's some interaction as each card gets resolved at the same time for everyone, providing lots of opportunities to jeer at each other as various spaceship parts go flying off. In Dungeon Lords, I have no idea what other people are doing to their adventurers. Thinking about how to deal with mine takes enough concentration as it is!
Maybe there's something about it that I'm not getting but overall it feels to me that the bidding for actions part is needlessly complex while the actual part that's fun to me, deciding how to layout your dungeon, what to put inside it and where, is frustratingly abstract and abbreviated. Even the part where you have monsters fight the adventurers who come calling feels too gamey for me. I guess what I'd really like is more Ameritrashy, less Eurofied version of the game.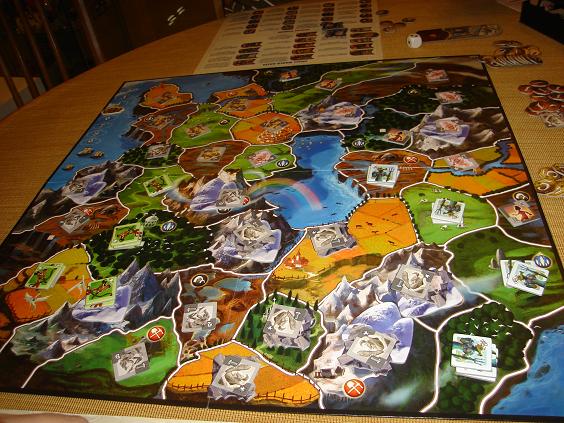 My wife asked to play Small World after that, making it the second time we've played this game since Sean first brought it into his shop. We walked away with a pretty favorable impression the first time around. It's sort of a cutesy, fantasy-themed wargame based on an older classic. The premise is that each of the players control fantastical races who compete with each other for a slice of the map, earning points for each region occupied every turn.
As befits interesting games, there are at least a couple of novel twists. First, each of the available races are actually a random combination of a race and a special power so there's a large variety of possible races that can appear. Secondly, each player may choose to send his current race into decline and choose a new one from the pool of available ones. This deactivates the powers of the old race and reduces their strength but you can still collect points from the regions they occupy. Knowing when to decline is clearly one of the key skills in this game.
After this second playthrough however, I'm beginning to feel that this game's replayability isn't all it's cracked out to be. Part of it is that quite a few race and power combos show up over the course of a single game, so the novelty and humour value of wacky combos like Flying Trolls and Mounted Wizards wear off quickly. Another part is that the map is really small. I know that's part of the point, but still, it means that there's actually less room for interesting decisions than you might think. Basically it boils down to figuring out whether or not you should decline, and if not, who to attack that turn.
I can still see the appeal of occasionally putting this one on the table, since it plays so quickly and is easy to teach to new people, but I can't see myself really getting into it. I do note that the artwork looks great and is very attractive. Combined with its zany theme and lightweight gameplay, I think it would make for a great gift for younger gamers.