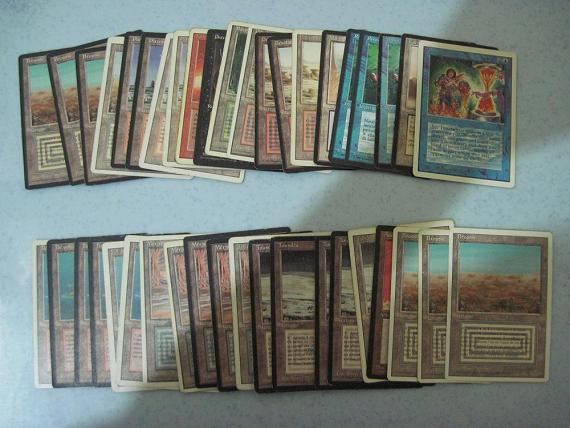 I actually did manage to sell my Magic: The Gathering in one go while I briefly stopped over in Kuala Lumpur during the holidays. I had some trouble at first as the old MTG trading forum seemed to be abandoned and full of spam, but I managed to discover that the local MTG community had moved to a new forum at 1mtg.org. After revising my card value calculations against the buy list prices of US-based card dealers, I decided to post a thread and ask for a price of RM4,000 for the whole lot.
At first, my intention was simply to sell to the first person who would be willing to pay that amount, subject to practicalities such as being able to physically meet on the two days that I would be available in KL. The thread however quickly turned into an auction as the members of the community quickly realized that I was asking for far less than the actual value of the cards.
What tripped me up was the value of the black bordered French-language cards. I had a hard time getting hold of prices for them as many of the US-based website don't buy foreign language cards and consequently don't publish prices for them on their buy lists. So I simply resorted to adding a price premium of about twenty percent for them. It turned out that for dual land cards in particular, the black bordered versions were worth more than twice the white bordered ones. This makes the black bordered Underground Seas actually more expensive than the Timetwister, which is a shock to me as someone who was last active in MTG over 15 years ago.
Anyway, after about a week of bidding, I declared the winning bidder at RM5.5k and arranged to meet him at Mid Valley. There were two of them and they have traveled to KL from Penang for this deal and had also arranged to meet someone to buy an extremely rare Transformers toy for RM2k. So yeah, these guys are really serious about their hobbies.
Not to much to tell except that I find it very amusing that the value of these cards have gone up so much. I received a ton of private messages on the forum, some begging me to make sure to sell the cards in Malaysia that they would continue to circulate within the local community, others telling me that I was a fool for not selling them to a US-based dealer at up to RM7k for the set. I also had the owner of a local MTG shop telling me that I should send my cards in for a proper a valuation and he'd be able to give me close to US-dealer price for them. I didn't have a lot of time in KL and was quite happy with the price I'd gotten, so I declined all these offers.
It was also cool to reminisce a bit with the two guys who showed up with the cash. I had a ton of Serra Angels in my lot for example, and it was a great creature to slap down on the table back in the day. Due to the inflation in creature power, it's terribly underpowered now and virtually worthless except for collectors. Similarly, they noticed my Italian Legends Underworld Dreams and commented on how it was a such a hot card once but has since lost all value after it was reprinted.
So that's it for my MTG collection. I can't imagine ever getting back into, though I admit that I still sometimes look up the new cards and their effects. It's just too much of a commitment. The closest I'll ever get to playing it again would be picking up the Duel of the Planeswalkers game when it gets discounted on Steam eventually.