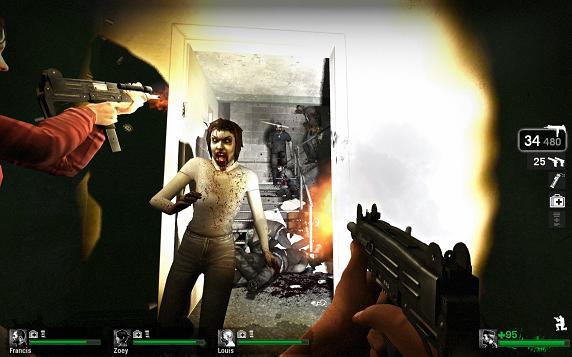 Considering how popular this game is and me being one of the last people to get it, I'm not going to write a review of Left 4 Dead. So here's a semi-random assortment of thoughts I have on it:
The single-player campaign is even shorter than I expected. Including the Crash Course DLC, there's a total of five campaigns that would take at most an hour and a half each to complete. Granted, it's a multiplayer game, so you're expected to replay the same maps over and over again, but I was still surprised. Look at how many maps Team Fortress 2 has by now!
Replayability is supposed to be extended by the AI director mixing up spawn locations for enemies and items. By and large, this works and it's pretty cool how the director likes to spawn a horde on top of you when it senses that there's not enough excitement. But once you know a map well, it seems like everyone just heads for the map exit by the shortest route possible. It's not really worth hanging around to explore in the hopes of finding some items.
I don't have a reliable net connection and I'm not really the multiplayer type so I only rarely ventured online and mostly stuck to singleplayer mode. But my experiences with the online mode worked surprisingly well with connection quality being much better than Team Fortress 2. I guess this is at least partly because there are far fewer clients to keep track of. Even so, I felt a bit useless and I just ended up tagging along with people who clearly been through the map dozens of times already and had memorized exactly which locations to stand on to deal with attacks.
The witch is an interesting concept but it seems to me that it's not serving its design goals any longer and most players now seem skilled enough to kill it without taking any damage. If the intent is to punish players for provoking it, surely you shouldn't put a witch in places where you absolutely must cross to get to the exit?
Though scary at first, the game is really designed to be easily completed at normal difficulty. At higher difficulty levels, it's a completely different story and making it a serious go at it ended up requiring more patience than I was prepared to give. I have to admit that you get the most memorable moments at higher difficulty levels. The sight of a vast horde of zombies swarming up through a hole in the ground is something I'll always remember. You keep killing them but they keep coming and coming and you wonder if they'll ever stop.
Overall, I'm satisfied with my experience but I'm also glad that I didn't shell out full price for this at release. It's not really optimal as a single-player game. The game tries to keep the tension and excitement at elevated levels throughout the campaign which is of course needed in multiplayer but too exhausting in single-player. You really need to intersperse the excitement with a bit of compression time and more story building moments. I'm also disappointed that the plot is paper thin as I would dearly love to have a better picture of what's going on around the world during the zombie infection, but I guess that's to be expected from a Valve game.