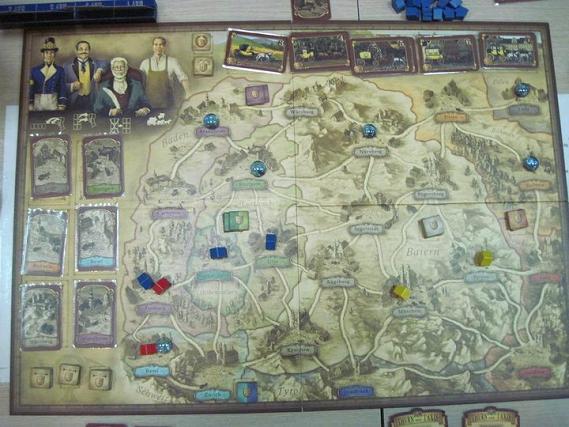 Some thoughts on Thurn & Taxis, a game which Sean considers himself to be an expert at. Interestingly, it's by Andreas Seyfarth and I liked both of the games by him that I've played so far, Puerto Rico and Airships.
Its theme is about building a postal network? I guess its as good a choice as any if you want to make a route connection game without falling back on trains. As usual with such things, the theme doesn't really matter and trying too hard to square the rules with the premise makes my head hurt. Why do you get carriage cards for building ever longer routes? Why do you get points for these cards but not for the little post office houses you put down? Who knows? But I do like the artwork and the map.
The basic rules are famously reminiscent of Ticket to Ride. Collect city cards and play connected cities  to build routes. The scoring system is quite a bit more complex however. Not only do you race to collect the region-based score chits, you also need to ensure that you have as few unused post office houses as possible at the end of the game since they count as negative points. This gives Thurn & Taxis a much richer strategic layer than Ticket to Ride.
The rules discourage hoarding cards. In Ticket to Ride, I always amass large numbers of cards before committing myself. Here, not only are you required to put down a card to add to your route every turn, but you can only keep three cards in hand after you're scored a route. This makes turn-to-turn tactical planning very important as being forced to discard cards means wasting turns. I like this rule too, though it seems very unforgiving.
The postal officials' powers, due to how they're implemented, may be a bit difficult to grasp. At first I thought that you only had limited uses of the officials over the entire game or that you needed to bid for their use against other players. No, you simply pick one power each and every turn to use. In my case, the confusion stemmed from representing the powers as people. I've probably played too many worker-placement games.
I feel that Ticket to Ride has a significant luck factor because ideally you want to get long routes on your destination tickets that complement each other but whether or not you get what you want depends on the luck of the draw. I'd say that Thurn & Taxis has almost no luck. Each city has so many connections that it's generally quite easy to build routes so the real challenge is to efficiently build routes in such a way as to maximize your ability to place post offices.
I've often thought of buying a copy of Ticket to Ride just to have a good gateway game handy that I could take out for visiting friends and relatives. Now I think that Thurn & Taxis is a much better prospect. It's significantly heavier of course, but it's still a pretty easy game to teach and I daresay that its physical components look more lavish and beautiful. Most of all, it would at least have more than just a passing appeal to my wife and myself.