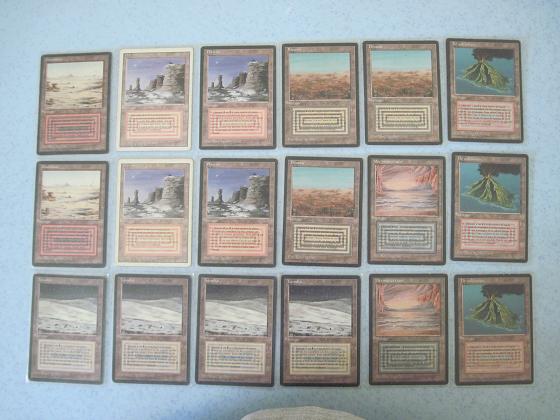 Another thing that I did over the Chinese New Year holidays was to dig up my old collection of Magic: The Gathering cards gathering dust at my mother's house. I had a vague idea of cannibalizing the worthless common cards to use as supplies for a game prototype I've been sporadically working on. However it turned out that all of the crappy stuff were either lost or thrown out long ago. The only cards I could find were a couple of cheap decks that I kept around for teaching purposes, my old Type 1 deck and assorted cards that I considered trade-worthy.
Now, I've always known that my cards had some value but I've been too lazy to sort them and try to estimate a valuation for them. I do know that a couple of times in the past when I joked about selling my cards on LYN, I continued to receive PMs from interested parties for up to a year after the posts. So this time armed the knowledge that Malaysia now had an active forum where players trade MTG cards, I finally took the time to sort them, type them up in a spreadsheet and look up valuations for each card on various websites.
One problem that I have when trying to assign a fair value to my cards is most of them are in French and the market for non-English cards isn't as liquid as the market for English cards. There are websites like Mtgfanatic.com which publish lists of single cards they'd like to buy and how much they're willing to pay for them but most if not all of these specify that they will only accept English-language cards. Of course, even such prices should be considered on the low end as these places then resell the cards they buy at a very significant mark-up. For my purposes, I've applied a discount of 10% or more to the non-English cards.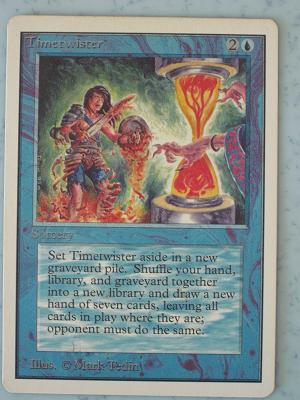 Here's a run-down on some of the most valuable cards I have. By far the most valuable card is my Unlimited set Timetwister, the only Power Nine card I have. It's generally worth at least US$150 and like all of the Power Nine, exists only in English. I actually got this card while I was back in Malaysia during the summer holiday when I joined an MTG meet-up. As I recall, I traded a bunch of French-language dual lands plus a small amount of cash, less than RM50 probably, to get it.
The next most valuable cards are probably my Mana Drains, of which I have three in total. One of them is in English but it's in pretty bad shape as you can see from the worn borders of the leftmost card in the picture below. The other two are in great condition but are from the Italian version of the Legends set. Note that only the Italians ever got the full Legends set in their language, so the cards that are available only from this set are all still quite valuable. A mint condition English-language Mana Drain should be worth around US$100.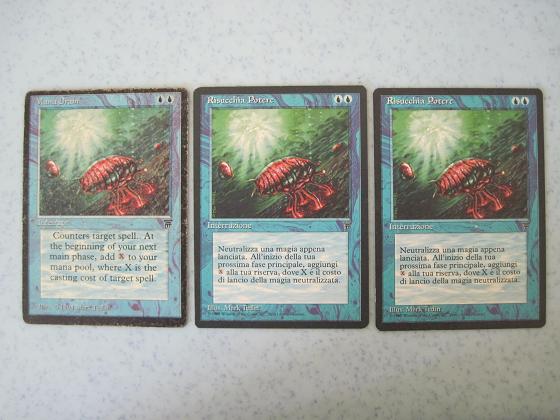 After that, the value of individual singles come down quite significantly but that's counteracted by the fact that I have so many of them. These are the ever useful dual lands, terrain cards that be tapped to gain two different colours of mana, and are pictured above. I have more than thirty of these cards which I painstakingly traded for in the belief that dual lands are so fundamental that they will never lose their value. Estimating their value is quite difficult however. Not all dual lands are worth the same. At the moment, it seems that Underground Seas which give both blue and black mana are worth the most. Such lands from the Revised set seem to be worth at least US$60 each. By contrast, Scrublands which give black and white mana seem to be worth only around US$30.
The astute will notice that many of my dual land cards are black bordered. To those uninitiated in the intricacies of MTG, cards with black borders come from limited edition sets while those with white borders come from unlimited edition sets, meaning that Wizards of the Coast will print as much as necessary to fill demand. My black bordered dual lands will be confusing to English language players because the Revised set exists only in unlimited format in English. However because Revised was the first set sold in France, a limited format print run was first sold and when that sold out, an unlimited format Revised was then made. This means that in theory black bordered French Revised should be worth more than white bordered Revised, but how much this premium is worth I have no idea.
The rest of my stuff aren't worth anything close to as much because they have collectible value but generally aren't useful in actual decks. A good example of this are my Italian Legends legend cards, two of which are pictured below. These two cards haven't been reprinted anywhere, so you need to go back to Legends to get them, but they're not really worth playing it so most people don't bother. In addition to the Tetsuo Umezawa and Lady Evangela, I also have a Gwendlyn di Corci. I'd guess these cards are worth less than US$10 apiece. Other stuff I have that are worth something but not a lot include a Maze of Ith from The Dark, a Karakas from the English version of Legends, a black bordered French Revised Sol Ring etc. I also have various oddities from here and there, such as black bordered Japanese language versions of staples like Lightning Bolt and Disenchant.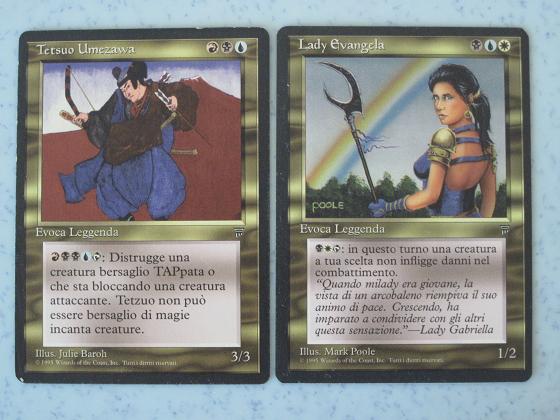 Overall, I'd say that my collection is currently worth around RM3,000 to RM4,000. The question is: how to sell it? I think that trying to sell it card by card would be more trouble than I'd be willing to put up with. I also thought about making a post on MTG Malaysia while their new user registration system doesn't seem to be working at the moment. Does selling on Ebay work? I've never tried that before but I don't think it would be fair as you really need to see these cards in person to evaluate their condition and card condition has a great effect on its value. One shop specializing in MTG in Kuala Lumpur has asked me to bring in my whole collection so that they can give me a quote, but the next time I will be traveling to West Malaysia will most likely be in September 2010. If anyone is interested in this, I can send you a spreadsheet listing all the valuable stuff.