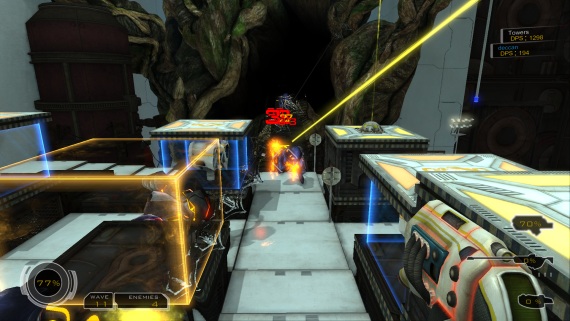 Sanctum is an indie-produced tower defense game with one unique feature: the player has an avatar and can shoot at the invading waves as it it were a FPS game. Defense Grid, which I absolutely loved, is the natural point of comparison so that's what I'll use. Oddly enough the game appears to agree with me. The first two words uttered by the announcer whenever you load a level is indeed "defense grid". Unfortunately for Coffee Stain Studios, I find the older game to be superior in just about every respect.
This game is played exclusively in the first-person view. There is a top-down view which you use to get an overview of the map but you can't do anything in this screen except click on "televators", basically elevated teleport pads, to get around the map quickly. Everything else including building towers and upgrading and selling them is done in the first-person view. While there's a certain novelty value to running around the map building towers in the first-person, it gets old quickly especially if the map geography makes it hard to get some tower locations into direct line of sight.
Also, it's hard to tell how effective the towers are in first-person view. The overview screen does show the effective range of towers when you click on them, but different tower types can aim up and down in different arcs so it may be impossible to tell if a tower can hit enemies at a certain point on the map which may be in range but outside of the movement arc of the tower. In any case since the player is busy shooting at enemies as well, you won't have time to study the effectiveness of your towers in action. The developers could have put in a replay function for each wave for this.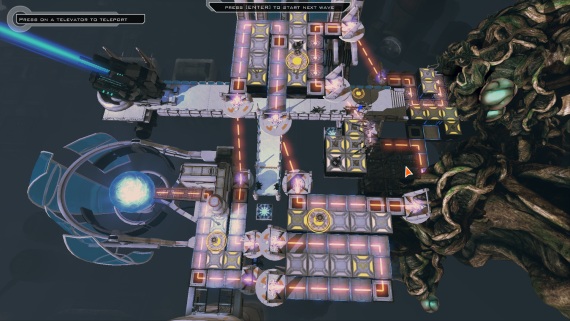 One key feature is that each enemy has weak points that you can shoot for extra damage. The towers are bad at this so this is mainly something for the player to pay attention to. One particular enemy is invulnerable except to shots at its weak spots so towers will almost never kill it. So actively shooting is a requirement for success, not optional. This is neither good nor bad, just a quirk of the game to be aware of.
I do like that a line always shows the path the aliens will take and the line automatically updates as you build and sell towers. This means you don't actually need to have aliens move through your maze to confirm which path they will take. All tower defense games need to have this feature.
Without DLC installed, there are only seven maps in total which I think is too few. I also find the map designs to be boring. A number of maps don't even allow you to shape the enemies' path in any way, or only minimally shape them. That doesn't make for much of a tower defense game.
Overall I found this to be a mediocre game with the shooty parts being particularly sterile. You tend to need a lot of hits to take down enemies and you're invulnerable in the game. The worst the critters can do to your avatar is knock you aside. So you just stand at a good spot and pour on as much damage as you can. Its one saving grace is that it does have coop multiplayer and so may be worth checking out with a buddy for just this reason. Otherwise my call is to give this a miss.